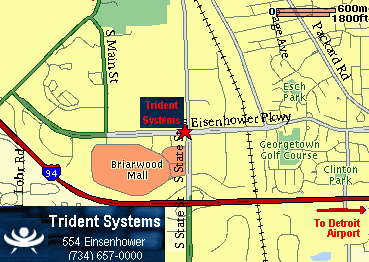 DIRECTIONS

---
FROM Detroit INTERNATIONAL AIRPORT
Take Interstate 94 West towards Ann Arbor/Chicago and exit at State Street (Exit 177) heading North.
Drive about one block North, you'll reach Eisenhower Pkwy. The 554 Eisenhower Pkwy building is located immediately to the left (That is the NorthWest corner of State Steet and Eisenhower Parkway).



PLACES TO STAY

---
Crown Plaza Ann Aror
610 Hilton Blvd
Ann Arbor, MI 48104
(734) 761-6800
Distance: 1/4 mile from Trident office
General Info and Reservations
Courtyard by Marriott
3205 Boarwalk Drive
Ann Arbor, MI 48104
(734) 995-5900
Distance: 1/4 mile from Trident office
General Info and Reservations
Extended StayAmerica
1501 Briarwood Circle
Ann Arbor, MI 48104
(734) 332-1980
Distance: 1/3 mile from Trident office
General Info and Reservations